An Interview With Toniya Singh, MBBS, FACC
Dr. Singh discusses her role as Chair of the National Women in Cardiology section of the American College of Cardiology and her goals to increase female presence in cardiology and leadership roles, her role models, why she supports House Resolution 643 to improve women's cardiovascular health care, and more.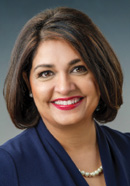 As the current Chair of the National Women in Cardiology (WIC) section of the American College of Cardiology (ACC), what are your personal goals in taking on this role, and what advice do you have for those seeking similar positions of leadership? How can male physicians participate in furthering these goals to improve the society and field overall?
My personal goal has been to smooth the path of any women physicians who choose to pursue cardiology and provide them with tools and introduce them to role models to show them that cardiology is an excellent profession for both men and women.
My advice for women seeking positions in leadership is to start at the local level. We all have good ideas and the key is to raise your hand and get involved. I strongly encourage physicians to be part of organizations that support physicians. As you work on various projects in those organizations, you can make your way up to a leadership role. I would also recommend reaching out to these organizations to get involved instead of waiting to be asked.
Because cardiology is a male-dominated profession, many men in higher-ranking positions can help sponsor and mentor women who are interested in pursuing a career in cardiology.
Are there any diversity or "physician life" sessions to be aware of for those attending the upcoming ACC 2020 Congress in March?
The ACC has a very active diversity and inclusion council that is chaired by Drs. Pam Douglas and Mary Norine Walsh. We also have a Chief Diversity Officer—Dr Ranna Parekh. During the upcoming ACC 2020 Congress, there will be a diversity and inclusion town hall, as well as several sessions in the WIC lounge on physician life challenges and how to deal with them. There is also a session on the Heart-to-Heart stage titled, "Sheroes," which is the brainchild of Dr. Sherry Ann Brown, discussing the challenges facing women in cardiology and working on solutions and finding role models and allies who can support this mission.
As a managing partner at St. Louis Heart and Vascular, what can employers, institutions, and practices do to promote inclusivity and improve the lives of all physicians in their health system?
I am fortunate to be able to work in a private practice setting where I have a lot of control over my work environment. I work with 13 other physicians, and we are able to figure out what works best for all of us so that we can be the most efficient without having to work through a large bureaucratic hierarchy. We are a very diverse group with physicians from all over the world, which brings a diversity of opinion and thought to our work. Owning our practice gives us the opportunity to remain flexible and physician friendly.
What clinical research projects are you currently involved in?
Our practice is actively involved in several clinical research trials. We were one of the biggest recruiters for the COMPASS trial, which has changed how we treat coronary artery disease and peripheral vascular disease. We are also involved in trials looking at SGLT2 inhibitors for congestive heart failure and novel treatment strategies for congestive heart failure, including some new devices.
In your 2017 TEDx talk, you discussed how the power of seeing others like yourself represented in higher positions can provide encouragement that success is attainable. Who in your life encouraged your path, and who were/are your role models?
My alma matter Lady Hardinge Medical College is a historical institution that is more than 100 years old and is the only all-female medical college in India. I was surrounded by successful women physicians at all levels of the college. As medical students surrounded by amazing classmates, we all believed we could achieve anything we set our minds to. While I was there, I met Dr S I. Padmavati, who was an alumna of my college and was the cardiologist to the President of India. Having met her, I felt that being a cardiologist was something that I could aspire to. I look up to the many women leaders in cardiology as role models, including but not limited to Drs Sandra Lewis, Roxanna Mehran, Pamela Douglas, Minnow Walsh, Claire Duvernoy, Nanette Wenger, Annabelle Volgman, Dipti Itchhaporia, Athena Poppas, Gina Lundberg, Laxmi Mehta, Martha Gulati, and Malissa Wood, to name a few. They are all doing fantastic and important work and provide mentorship and sponsorship to the women in cardiology. They also represent many different subspecialties within cardiology, as well as a variety of practice settings.
What is the background of House Resolution 643, which is focused on improvements in women's cardiovascular health care? Why do you support this legislation, and what can others do to help support this initiative and others like it?
House Resolution 643 was introduced in October 2019 to recognize that women's cardiovascular health is a critical health care priority, emphasizing certain facts including that heart disease is the number one killer of women in the United States and accounts for 400,000 deaths each year. The resolution also highlights that the symptoms of heart disease and heart attack among men and women are different, and it also brings into account the fact that maternal mortality is much higher in the United States compared to other developed countries. More than 700 women die from pregnancy-related conditions every year, and cardiac disease and stroke are the leading causes of pregnancy-related deaths. Symptoms of heart disease are inadequately recognized and not treated appropriately, leading to significant cost in terms of morbidity, mortality, and financial burden. The House wants to create awareness and support for the promotion of gender-specific cardiovascular research and the development of economic impact data.
I think all of these points are extremely critical. Women constitute 50% of the population, and we would be remiss not to address such an important issue affecting half the population. Education of patients and physicians is extremely important but so is providing the resources to perform robust research to find optimal solutions.
Earlier this year, I was part of a group of physicians that went to Capitol Hill to lobby our elected representatives to help pass this law. I cannot understate how essential it is to reach out to our local and state representatives to ask for their support; passage of the law will provide adequate financial backing and legislation to allow for research on this very important topic. Several health care organizations, including the ACC, have materials available that you can use to reach out to your local representatives.
In your opinion, what is the greatest need to address in cardiac care for women?
Similar to the previous question, we know that cardiac disease is the number one killer of women. We have also learned that heart disease can manifest differently in women than in men. Not only is patient education essential but also physician education on the various presentations of heart disease in women. We need to initiate research and increase the number of women in research studies to find the best medications and other treatment options for women with heart disease.
What is your personal strategy for preventing physician burnout, and what advice would you give to those coming into the field? How can societies/physician groups help?
My personal strategy involves spending time with my family. I have a wonderful husband who is a Jeopardy fan and an avid sports fan, so I keep up with trivia and some sports. We love to travel with our children to new destinations as a family, taking in the local culture and cuisine. I love to read and have been part of a book club for more than 13 years with a group of amazing women. I have read many books that I would never have picked up on my own. Locally, I am part of an all-female investor group where I meet entrepreneurs and learn about fields outside of medicine. Having a variety of interests keeps things interesting.
I have a very strict rule that I do not bring work home unless it's absolutely unavoidable. I do not sign onto my electronic medical record from home unless I am on call and need to look up information. Several societies provide tools to help recognize and provide solutions for burnout, and the ACC also has several robust resources.
If you had to choose, what would you say has been your most memorable volunteer experience?
One of my most rewarding experiences was starting the Midwest WIC conference in 2017, which was the first regional meeting we've ever had for WIC. Working on finding the support and getting it off the ground was truly satisfying. This meeting has now served as a model for several regional conferences throughout the country, which has increased participation at the local and national level and allowed us to reach out to medical students and residents interested in cardiology.
---
---